How would you rate episode 1015 of
One Piece ?
Community score: 4.8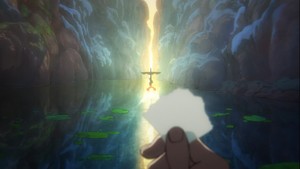 Words are clumsy tools.
I write for a living. I write for joy. I write because there is power in words.
But at times like these, they fail me.
One Piece episode 1015 is every cliché phrase of praise I can muster. A tour de force. A visual spectacle. A delight for the senses.
Every cell is bursting with fluid color and vivid expression. Every line is delivered with conviction and care. I've watched the episode twice and cried both times, searching for the words to put in this funny little box to tell you how it makes me feel.
But what can I say that can add to what we are seeing here? This is a weekly production, but no mere twenty-four-minute content churn slopped in front of your eyeballs. This is all killer no filler. The kind of episode that…