Anime's 3rd TV season premiered on January 7 with
HIDIVE
streaming
---
The official website for the anime based on Sōichirō Yamamoto's Teasing Master Takagi-san (Karakai Jōzu no Takagi-san) manga revealed a teaser visual, the staff, and the June 10 opening date for the upcoming anime film in the franchise on Friday.
The main staff from the anime's third season will return for the film. Hiroaki Akagi is directing the film at Shinei Animation, while Hiroko Fukuda is credited for composition, as well as penning the script alongside fellow third season scriptwriters Aki Itami and Kanichi Katou. Aya Takano is once again designing the characters. Hiroaki Tsutsumi returns from previous seasons to compose the music.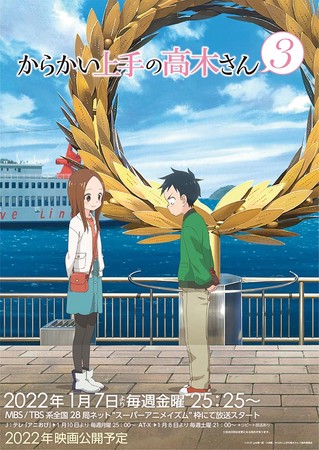 The television anime's third season Karakai Jōzu no Takagi-san 3 (Teasing Master Takagi-san 3) premiered on MBS and TBS' Super Animeism block on January 7.