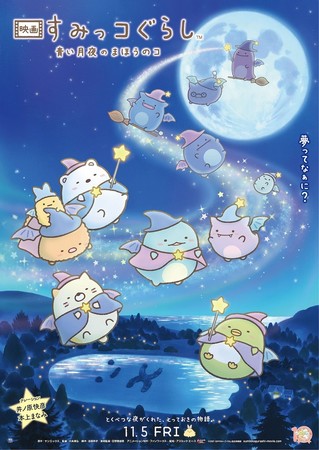 Eiga Sumikko Gurashi: Aoi Tsukiyo no Mahō no Ko (The Magical Child of the Blue Moonlit Night), the second film in San-X's Sumikko Gurashi franchise, rose from #2 to #1 in its second weekend. The film earned 154,229,120 yen (about US$1.35 million) from Friday to Sunday, and has earned a cumulative total of 468,971,890 yen (about US$4.10 million).
The film opened in Japan on November 5, and sold about 200,000 tickets to earn about 250 million yen (about US$2.22 million) in its first three days.
Takahiro Ōmori (Durarara!!, Natsume's Book of Friends, Princess Jellyfish) directed the film. Reiko Yoshida (Violet Evergarden, Lu over the wall, K-ON!) penned the script, and Kaori Hino (Modest Heroes, Napping Princess) returned from the first film as the art director. Fanworks returned to animate the film, and ASMIK Ace is distributing.
In the film's story, the main characters go…