Hunting ghosts gets sexual but does the main couple's dynamic rub viewers the wrong way? Nicky and Jean-Karlo check out the anime adaptation of the fan-favorite manga.
This series is streaming on Crunchyroll
Disclaimer: The views and opinions expressed by the participants in this chatlog are not the views of Anime News Network.
Spoiler Warning for discussion of the series ahead.
---
Jean-Karlo
Well, October is over Nicky, but there are still a lot of freaky man babies sleeping in my bed. But let me tell you something:
Bustin' makes me feel good.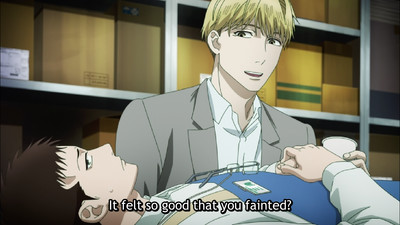 Nicky
Well if people were sad The Season of Spooks was over, we've still got many frightening things to come. After all, we of
This Week in Anime
are accustomed to horror shows. Think of all the clowns we have to deal with on a regular basis!
However, nothing has prepared me for the nightmare that is this man's fashion sense.