Nick and Steve check out two NSFW series featuring the likes of a fantasizing office worker and the mishaps that come big ol' honkeroos.
These series are streaming on Crunchyroll
Disclaimer: The views and opinions expressed by the participants in this chatlog are not the views of Anime News Network.
Spoiler Warning for discussion of the series ahead.
---
Nick
Steve, we're coming up on the end of Halloween Month, and I just realized we haven't really covered anything ooky and/or spooky yet. So we need to fix that and talk about something creepy, unsettling, frightening, and altogether horrific: working an office job.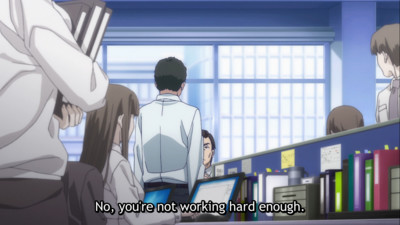 Steve
Me, I've loved horror movies ever since I was a wee tot, but nothing I've seen in any of those has ever filled me with more dread than the feeling I get opening Outlook every Monday morning.
Do not perceive me. Do not email me.
That's right, this week…