The conclusion of Violet's story is here; love, loss, and picking up the pieces of war. Nick and Steve look to see if the gorgeously rendered finale sticks the landing.
This movie is streaming on Netflix
Disclaimer: The views and opinions expressed by the participants in this chatlog are not the views of Anime News Network.
Spoiler Warning for discussion of the series ahead.
---
Nick
Steve, working on this column we get to cover a lot of varied and surprising stuff. But I can't say I ever expected us to cover an anime sequel to Terminator 2 here.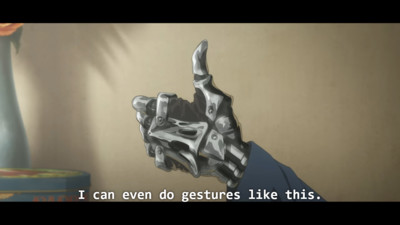 Steve
And like Terminator 2, this movie also ends with the protagonist lowering herself into a vat of molten steel! Albeit figuratively.
Welcome back, Violet. Glad to see you're as chipper as ever.
Almost four years since the TV series debuted and they're still trying to convince us that she has a totally real name. Can't say…