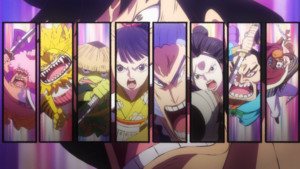 Remember how last week all I did was hoot and holler about how good One Piece is?
I'm afraid to tell you that the hooting and hollering will continue.
Because wow gang, One Piece 995 is a tour de force. It already has all the hallmarks of a "standard" Wano episode by this point: solid animation that even at its lowest ebbs is unmatched by entire seasons of other currently airing shows, strong characterization that leverages both the expansive past of the series and the new frontiers of recently introduced cast members, careful direction that juggles deep pathos and knee-slapping laughs, and terrific music.
But then, this episode feels like so much more than "merely" good. The culmination of Momonosuke's emotional arc at the top of Onigashima is a high watermark for his character. To say that I've not really been his biggest fan is to put it mildly, but seeing…