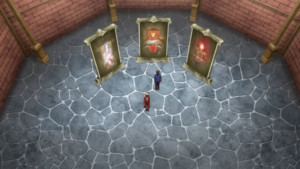 A bit more of a mixed bag this week coming off the stronger episode from last week.
We open with a short scene between Souma and Juna. It is meant to be a soft, sweet moment between the two of them. Souma is exhausted, so Juna comes in and comforts him until he falls asleep. My issue is that it is less sweet/tender and ends up being more pandering. We have hardly seen these two interact, so having Juna basically pledge to fill in the gaps for another paramour (Liscia in this case) feels like a very cynical reminder that her character even exists. The kicker of Juna singing a song as Souma sleeps ends up feeling more funny than sweet for precisely this reason.
The remainder of the episode is largely focused on the three dukes. This is where the series gets back to straining any sense of realism or practicality, for myself anyway.
Souma goes on a pretty lengthy discussion…