Director Atsushi Takahashi, sci-fi writer and ex-physicist Toh Enjoe, and Studio BONES and Studio Orange introduce their entry in TOHO's Kaijuniverse with Godzilla Singular Point. The fantastically animated spectacle looks promising, but is it bogged down by its sci-fi jargon script? ALSO: Back for a special one-time appearance is Andy Pfieffer (@ATastySub) to share his kaiju-sized enthusiasm for the king of monsters.
This series is streaming on Netflix
Disclaimer: The views and opinions expressed by the participants in this chatlog are not the views of Anime News Network.
Spoiler Warning for discussion of the series ahead.
---
Nicky
REPORT: We have a monster-sized Netflix dump approaching This Week in Anime. I repeat, a giant chungus lizard is going to spell my impending doom. Requesting immediate backup, do you read? Over.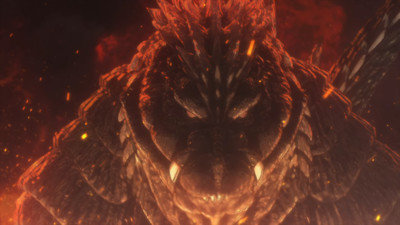 Andy

Oh no! It's escaped Netflix jail!…